The theme of communication within the family (and not only information) concerning the history of the adopted child was the subject of an important study carried out by the Centro di Ateneo Studi e Ricerche sulla Famiglia (University Centre for Studies and Research on the Family), which involved 134 adoptive families with teenage children (the survey involved the mother, the father and the teenage son), with the aim of ascertaining whether and to what extent open communication can promote the well-being of the children and what factors can contribute to fostering dialogue and discussion within the family, including adoption-related issues.
Here is a summary of some of the main results.
1) Interesting "generational" differences emerged in the comparison between parents and children: children in general report lower levels of communicative openness with both their mothers and fathers than their parents themselves (adolescents reported lower levels of ACO with both their mothers and their fathers than the mothers and fathers reported with their teens), and this is in line with other research on parent-child communication in general.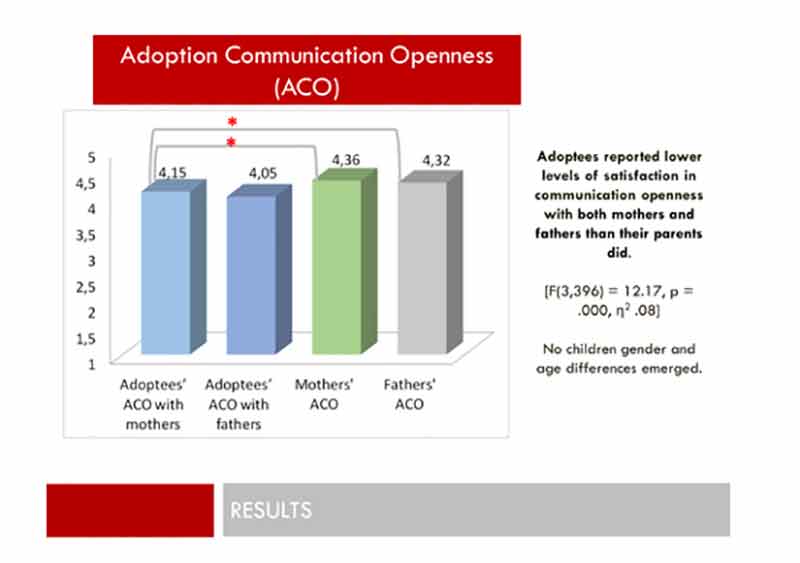 Mothers and fathers show a good level of agreement among themselves, while perceptions between parents and children, as often happens, do not match. Parents, on their part, perhaps overestimate the degree of openness and satisfaction in communicating with their children about issues related to their adoption history, their past, while children are more critical and less satisfied, do not always feel fully understood by their parents and show greater difficulty in sharing their thoughts and feelings about adoption with their adoptive parents.
(No differences emerged by age, gender and age at adoption).
2) It was also found that high levels of communicative openness (as perceived by all family members) correspond to low levels of emotional-behavioural problems: thus communication in the family is a crucial protective factor as it has a significant impact in reducing the incidence of emotional-behavioural problems in children.
3) Furthermore, research has shown that shared family cohesion between parents and children, i.e. emotional closeness, is a resource that creates a family context that facilitates open communication between parents and children, which in turn, as we have said, has been found to be a protective factor that reduces the incidence of emotional and behavioural problems in children.
These results, among others, will be presented and discussed during the 7th International Conference on Adoption Research and are part of a larger cross-national research project promoted by the University Centre for Family Studies and Research and involving three other countries besides Italy: France, Spain and Norway, which have respectively studied adolescents' health problems, discrimination and bullying, and school success. Since in the panorama of the literature on adoption issues, a limitation of adoption research is the lack of cross-national studies, the present research project intends to fill this gap and investigate the adaptation and the quality of family and social relationships by comparing adolescents (13-17 years old) adopted in these four different European countries. A special focus will be placed on children from the Russian Federation and other Eastern European countries as other studies have shown higher risk indicators in this specific group.
More generally, the research stems from the consideration that openness and willingness to communicate about the adoption history and the child's past is one of the crucial tasks of the adoptive family as it touches the very heart of adoption itself. Law 184 of 2001 itself states: "The adopted child shall be informed of his or her condition and the adoptive parents shall do so in the manner and terms they deem most appropriate".
In 3-4 decades, therefore, we have moved from a conception of adoption based on the total removal of the past, to a conception of adoption that emphasises the need for parents to gradually share with their child and over time the story that led to adoption.
First of all, it should be stressed that talking about adoption with adopted children is not a one-off event, but a process that takes place in everyday life and throughout the entire course of the adoptive family's life, and that recurs particularly during critical transitions in the life cycle, such as adolescence. It is not a question of identifying a moment dedicated to "revelation", but of a continuous dialogue that takes place over time. Of course, this exchange must take into account the different phases of the child's cognitive and emotional development, his or her ability to understand and integrate information into their self-concept and life story. It is therefore desirable to start early on to 'normalise' this aspect in the life of the adoptive family.
Parents are called upon to recognise their children's interest and curiosity about their birth family, facilitating questions and the sharing of thoughts and feelings. It is the adoptive parents' task to help their child construct and share the meanings of the adoption story and to support them in coping with the emotions linked to the loss associated with adoption (loss of birth parents and any other relatives and siblings, caregivers, foster family, loss of country, culture, etc.) and in maintaining contact with their origins, and finally to help them integrate their adoption experience into their own history and as part of their identity. This is a challenging task, and one that is not taken for granted by the parents. So, it is not so much an informative task as a process of attunement, i.e. mutual tuning into the meanings and emotions linked to the past history. This allows the child to build his/her identity, connecting the present to the past, in order to plan the future with greater confidence.